Smart, sensible, safe solutions for lake weeds and mucky bottoms
Muck is yucky. Lake weeds are icky. Because you're reading this, you're probably on a lake, a pond, or river frontage with muck, or weeds — or both. We'll solve your problem, quickly, easily and affordably.
No chemicals. No cutting. No raking… No kidding!

- For both muck and weeds, our MuckMat Pro gives you a firm, weed-free lake bottom in 30 minutes. Guaranteed!
- For just lake weeds, LakeMat Pro gives you an attractive, weed-free beach to enjoy all summer.
- Boatlift Mats and DockMats give you a firm base in about 10 minutes. Lifts and docks won't sink. Plus, installing and removing them is much easier.
- If you want a beautiful sandy shore, SandMats provide bases that save your sand, suppress weed growth and inhibit erosion.

Plus, you get a 10-Year 100% Guarantee with all our products. You'll have the beautiful waterfront you want. Right now. Promise!
No muck
No weeds
No problem!
From $449

Enjoy a firm, weed-free lake bottom,
Proven, Time-tested, Guaranteed.
MuckMat Pro
Lifts and Docks
won't sink
Promise!
From $299

Pontoon Mat - Boatlift Mat
PWC Mat - Boat Slip Mat
DockMat - Wide DockMat
Boatlift Mats
Weed-free.
Guaranteed!
From $399

Get a beautiful, weed-free lake bottom
No raking.
No chemicals.
No kidding.
LakeMat Pro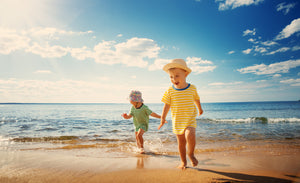 A more
adorable shore!
From $139

Enhance the beauty of your
lake with a lovely sandy beach.

SandMat
Super SandMat
Muckmat pro
GOT MUCK? YUCK!
Say goodbye to mucky lake bottoms with our MuckMat Pro.
MuckMat Pro is the only lake muck control product that lets you walk over muck without sinking.
A simple, safe, and easy to install system, it is the most effective way to handle lake bottom muck. As with all of our products, we guarantee that you won't find a better solution!
Weeds don't grow with LakeMat Pro!
EASY- no raking
Because you really don't need to work that hard (and raking just creates more weeds)
SAFE – no chemicals
Because you care about your family, your environment, and your lake
EFFICIENT – make your own beach perfect
Because you don't need to fix the whole lake
QUICK – under 30 minutes
Because lake time should be about "good times," not work time
GUARANTEED EFFECTIVE
Because you expect our products to work…and they do!
Explore our awesome products! Muck & Lake Weed Control – Green & Guaranteed!
LakeMat Pro vs. Lily Pads Before and After
BEFORE
After
Contact us
Ask Questions 616 340-1263
Order by phone 616 293-9101
★★★★★

"Now our grandkids can enjoy the lake shore as it's meant to be. We'll be getting two more this spring."

Mike M. – TX

MuckMat Pro owner
★★★★★

"I was tired of raking weeds, now they're all gone, even the lilies. That's why we bought another one."

Carla P. – MI

LakeMat Pro owner
★★★★★

"They work great. I bought three of them last year and they are outstanding. I don't sink, and the kids and my dogs love it. I blow 'em off [clean off silt] with the wave runner. It works great."

Mark – MI

LakeMat Pro owner
★★★★★

Getting rid of our muck just wasn't an option, which is why we got Boatlift Mat. With the Boatlift Mat we can walk around our boat and we can enjoy walking around the dock area without sinking. I kind a wish it would sink a little more. We have a big lift and a big deck boat that weighs about 5,000 pounds. It doesn't sink at all.

Marc - Michigan

Boatlift Mat owner
★★★★★

I want to thank you! We got a MuckMat Pro from you last year. My grandkids just love it! I thank you, because ever since we bought our cottage in 1982, we've never been able to swim off the dock. We always had to take the boat out to deep water to swim. I want to thank you for giving us our cottage back.

Paul - Michigan

MuckMat Pro owner
★★★★★

We've had our MuckMat for three years now. It's absolutely great. The kids can go and play in our beach now. They'd never go out there before, they didn't like the muck and weeds. To clean it, I just rake it off with a plastic rake. The weeds don't grow and the kids don't sink. We really get to use our lakefront now.

Rick - Michigan

MuckMat owner
★★★★★

The MuckMat Pro works great and does exactly what it's suppose to do. We bought two of them. We have no weeds and we walk out on it with no problem. You can turn a swamp into a nice beach. They're awesome.

Don - Michigan

MuckMat Pro owner